Conference "New Opening – Polish-Vietnamese Scientific Conference" November 6-15, 2023 in Hanoi, Vietnam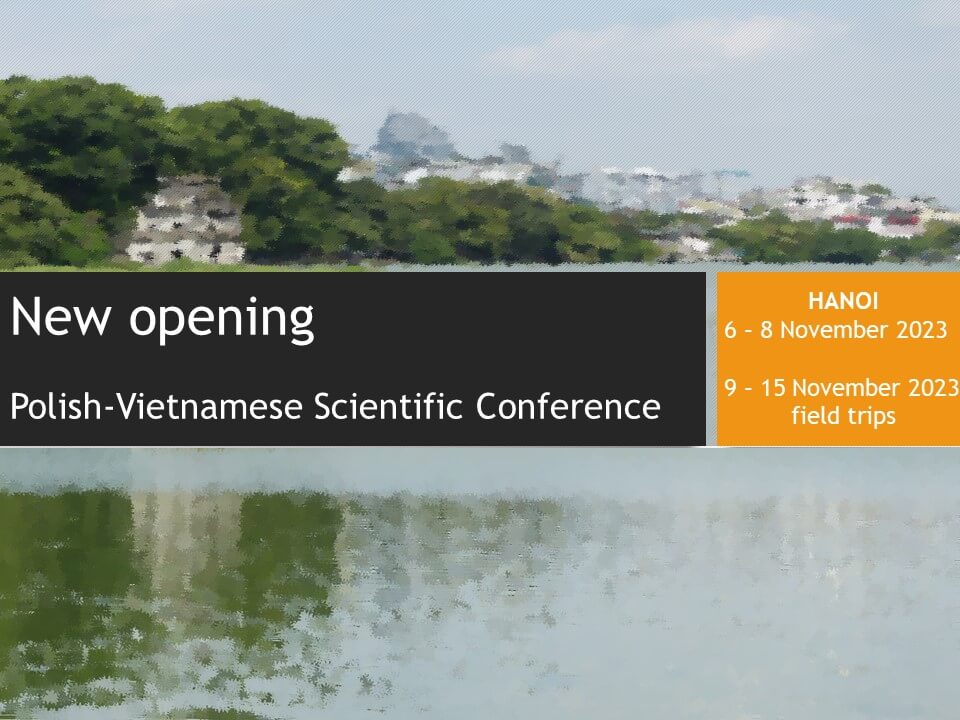 Ladies and Gentlemen,
The cooperation between Poland and the Socialist Republic of Vietnam has a long-standing tradition dating back to the 1950s, when Poland began to train personnel for Vietnam and diplomatic relations were established between our countries. Over the years, scientists from Poland and Vietnam have produced many joint publications, projects and initiatives.
This year, we plan to organise a series of events to promote Polish-Vietnamese scientific cooperation, with the aim of developing space for the exchange of scientific ideas, cooperation and the preparation of joint Polish-Vietnamese research projects in the fields of earth and environmental sciences, environmental engineering, mining, energy biological sciences and archaeology. The long-term goal is to establish a Polish-Vietnamese Tropical Research Centre in Vietnam.
The first event will be the 7th International Conference POL-VIET Scientific and Research Cooperation between Vietnam and Poland "Sustainable and Responsible Industry", which will be held on 18-20 October at the AGH University of Krakow (https://polviet.agh.edu.pl/).
The continuation of the Krakow events will be the "New Opening – Polish-Vietnamese Scientific Conference" (https://geo.uw.edu.pl/en/conference-new-opening/), which is organised by the University of Warsaw, the Institute of Palaeobiology of the Polish Academy of Sciences, the Institute of Geological Sciences of the Polish Academy of Sciences, AGH and the Vietnam Institute of Geosciences and Mineral Resources, to be held in the first half of November in Hanoi. The conference programme includes one day of plenary sessions, at least four panel sessions, an exhibition 'Against the Sands of Time' and two seven-day field sessions. Detailed information on the programme and costs of the conference will be sent to you in the First Circular in August this year.
For information on the conference, please contact Prof. Anna Wysocka, PhD, Vice-President of the Team for Scientific Cooperation and the Establishment of a Polish-Vietnamese Scientific Station in Vietnam (pol-viet2023@uw.edu.pl).